Hector



Voiced By

Gender

Male

Status

Deceased

Race/Nationality

Hispanic/Mexican

Hair

Black

Eye Color

Hazel

Affiliation

A.R.C.

Rank/Occupation

Security Guard

Weapon(s)

Equipment

Shoulder Flashlight
Radio
Hm, quiet man I see. It's alright, you don't have to talk to me. We don't have to be friends. Just make sure you cover my ass, and I'll cover yours."
Hector is a character in Underhell. A member of the A.R.C. Security Team.
Biography
[
]
Hector makes his first appearance in the Security Room along with Terry and the others, he goes with Jake Hawkfield to turn off the power relays in the south wing.
If Hector is not protected, he will die prematurely and Jake must take his power keys to proceed further. His Benelli M3 can also be taken.
If he does manage to survive for a sufficient time, he is then killed during the objective. After turning off the generator in the High Security Block, they get surrounded by Zombies. After fighting them off, they hear something charging towards their position and try to flee. Hector is then sliced in two and killed by Igor.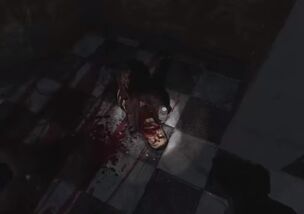 Character Design
[
]
Hector is created using a Tactical Urban body and uses one of J.Barnes Reskined Male_02 heads.
Quotes
[
]
"Lets get the hell outta here, this way!" - Hector's Last Words.
"So what's your story?...You killed your wife and kids or something?...They don't send you here unless you're a killer."
Trivia/Notes
[
]
After leaving the first safe room, Hector will ask Jake if he's killed his wife and kids, this may be an indirect reference to the 2004 video game "The Suffering", when the Hispanic CO in the intro explains Torque's past.