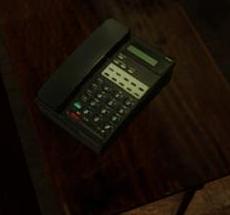 Brandon McKagan
is a character in Underhell. He appears to be Jake's friend. Brandon is a
SWAT
operative.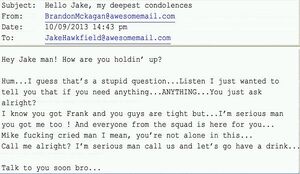 "Hey Jake, it's Brandon. Dude, just come have a drink at Mike's pub. Just...I know it sucks dude, but life goes on you know...and I'll be here to help you out man, come out to Mike's pub dude. All the guys are here, we're waiting on you. Let's hang out."
"Hey Jake, it's Brandon. Have you been getting calls from this dude named Hammond? He's been calling me and asking me questions about you and your past and about your family, I mean, I told him to go fuck himself. But Mike got a call from him as well. Did you put him up to this? I mean I wanted to ask cause if he's working for you fine, I mean I wanna help if you wanna know more about your parents. The fuck is going on outside? Seriously, what is wrong with this fucking town!"
The first encounter with Brandon is through a phonecall during the Prologue stage of The House. Though it is not canon due to the fact that the phonecall is random.
Brandon McKagan, the voice actor, is playing as himself in Underhell.